Thank you for attending our breakout session at the Thrive Conference 2014. Â Below are resources for anyone interested in further discussions with Mormons, missionaries, or just understanding the Mormon faith in greater detail.
Missionary Help
Have Mormon Missionaries coming over? Â Have they stopped by to teach a message? Â Use this PDF with your Bible to discuss their faith and witness to the power of the true Jesus Christ.
Doctrinal Help
Looking for help with doctrine questions and differences between Christianity and Mormonism?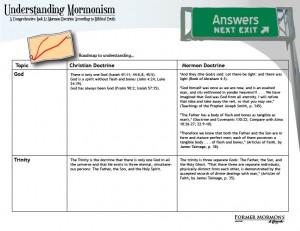 DoctrineExplained
Historical Timeline According To Mormonism
Wondered how Mormons view history…use this to reference their view of history compared to dates recognized by mainstream Christianity…