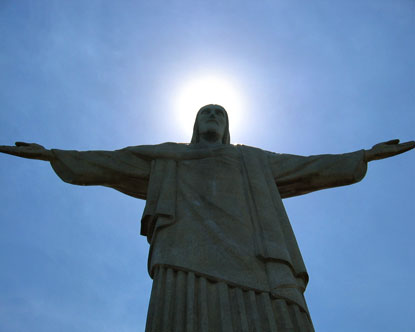 There is a haunting warning contained within the Gospel of Matthew.  In the seventh chapter verses, 21-23, it reads:
"Not everyone who says to me, 'Lord, Lord,' will enter the kingdom of heaven, but only he who does the will of my Father who is in heaven.Many will say to me on that day, 'Lord, Lord, did we not prophesy in your name, and in your name drive out demons and perform many miracles?'  Then I will tell them plainly, 'I never knew you. Away from me, you evildoers!'"  (NIV)
In this series of verses we are offered a warning that there is the potential to have Christ deny any relationship between Him and us.  How do Christians know the differences that exists between knowing of Him and believing in Him?  The true importance of this topic is difficult to fully quantify in written word but consider the promise to those that believe as opposed to merely knowing of Him, as highlighted in John 3:16-17:
"For God so loved the world that he gave his one and only Son, that whoever believes in him shall not perish but have eternal life. For God did not send his Son into the world to condemn the world, but to save the world through him."  (NIV)
Those that "believe" in Him are promised eternal life.  Many reading this are probably groaning at the prospect of life eternal, but this promised existence is glorious and is devoid of the pain that we experience in this life.
Our belief in the Lord Jesus Christ and in the Father is the most important component in our faith as Christians.  This verse is manifesting and declaring our God's impossible love for us.  This love is not self-centered or an esoteric concept for men to debate, but it is a literal manifestation through the sacrifice of His Son!  This incredible demonstration of true love, God's own self sacrifice, gives us hope and eternal promise.   How do we distinguish and ascertain the differences between simply knowing who Christ is, and establishing a true belief in Him?  How do we avoid this terrible conversation explained to us in Matthew, at our judgment?
Gaining a knowledge of Christ is relatively simple.  Reading the Bible gives the seeker a glimpse into both his nature and his ministry.  Researching the writings of historical figures around the time of Christ substantiates His existence.  This intellectual acknowledgement of the man that was Jesus does not require any heavy lifting neither intellectually nor with regards to our faith.  One can even intellectually agree on the divinity of Jesus, but even this agreement does not truly constitute the act of believing, that Christ is seeking from us.
For example, after my exit from the LDS faith I struggled with my belief in God and consequently my doubts regarding Christ.  During this dark walk without God, I was given the opportunity to attend a local First Presbyterian church, where I heard a sermon regarding the historicity of Jesus Christ.  During this sermon I was intellectually forced to acknowledge the historicity of a man name Jesus Christ, but the most important moment came when the Pastor began to discuss the resurrection.  As he discussed the evidences of Christ being raised, I was faced with an incredible prospect; I had to acknowledge the Son of God!  I could and had to acknowledge Him after this sermon, but I did not yet "believe" in Him as stated in John and Matthew.  At this point, I now know that  I would have had a very difficult and devastating discussion with Christ at my judgment due to my lack of true belief in Him. Despite my knowledge of Him, He did not yet know me.
The act of "believing," that He is commanding and pleading with us to gain, involves trust and confidence. This trust and confidence must be placed in the knowledge that only He can save us!   Not only do we trust him with matters of eternal destiny; we must trust in Him enough to place Him at the head of our lives and daily affairs.   To believe, is to place trust in His teachings, words, and example.  To believe, is to trust that He can and does have the power to change our lives.
If you have never before trusted Jesus Christ, let this promise of transformation and everlasting life be yours today - believe!  Declare your own spiritual bankruptcy, knowing that there is nothing you can do to secure your own salvation.  After reading this please drop to your knees and pray to allow Him to come into your life and take over.